Monthly Vedic Astrology Forecast
January 2020
by Kerry Shamblin
Calculations are done using the Chitrapaksha ayanamsha and the mean node. Timings are based on Mountain Time Zone, US.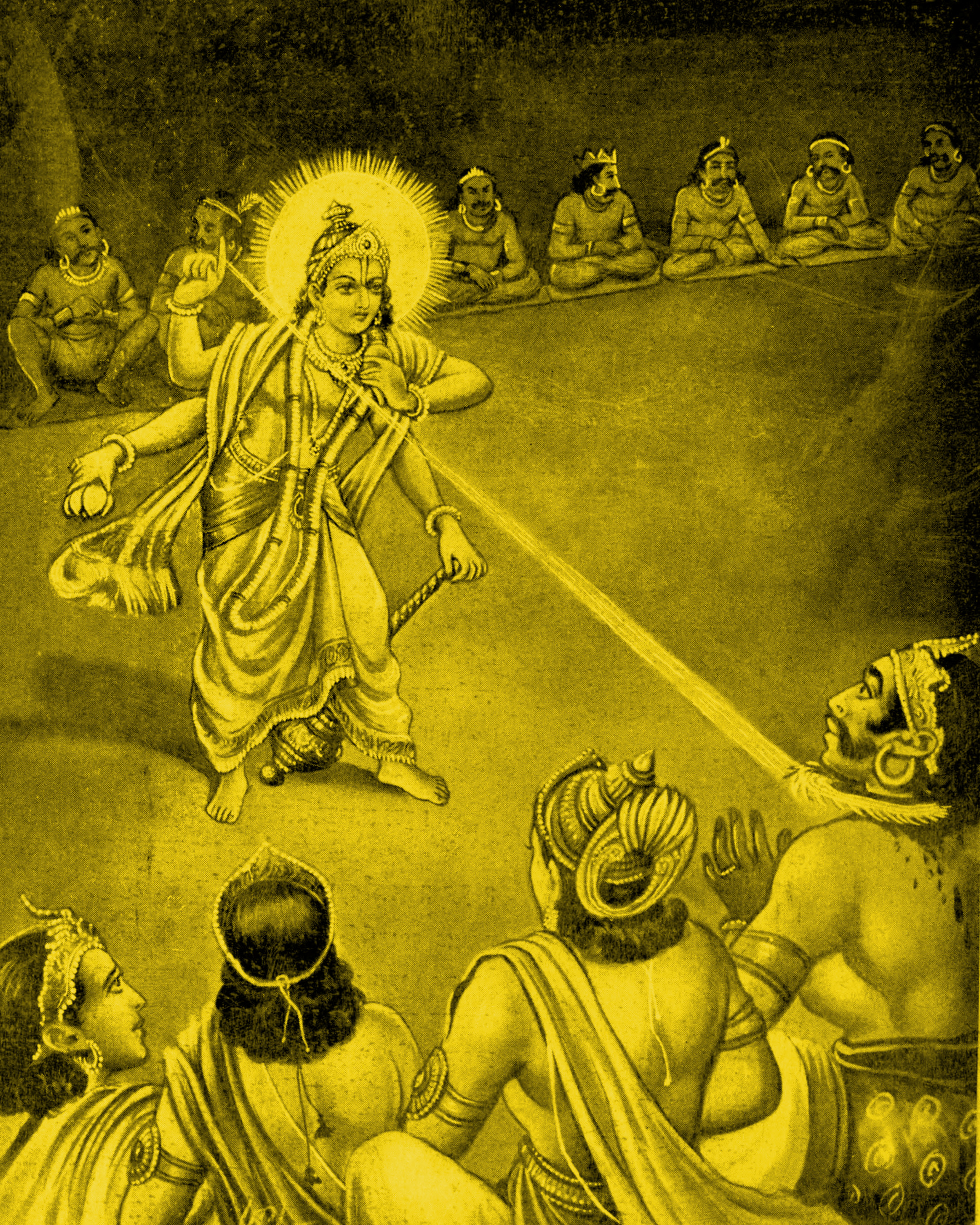 Mars in Scorpio January 2020
As we ring in the new year 2020, we are standing on some slowly shifting terrain and looking hopefully toward some relatively stable times ahead. One hint of steadiness comes from Mars, our planet that rules power, protection and tangible energy sources, who will be positioned in his own sign of Scorpio, which will encourage us to dig in and find stability on our own ground. This move into Scorpio occurred just hours before the penumbral solar eclipse that saw the conglomeration of planets in Sagittarius on December 25.
The sign of Scorpio has been the site of some radical transformation during the past five years. Those with this sign strong in their horoscopes may have been feeling this. Saturn transited Scorpio from November 2014 – November 2017, the inner planets transited through in 2018 and Jupiter transited from October 2018 – November 2019. The two planets of intense contraction (Saturn) and expansion (Jupiter) have done their work in Scorpio for now and it is up to us (and Mars) to restore the cool resilience that we count on Scorpio to provide.
Feb 7, Mars moves to Sagittarius, joining Jupiter and Ketu, who will be paired in Sagittarius until September. This first five weeks of 2020 will see this benefit of Mars in Scorpio, diving deep to gather resources that are still viable and begin to build again.
This is a surgically precise astrological influence that may inspire one to remove unwanted growth or limbs that may not be producing fruits any longer. During this time of pruning, balance the black and white thought process of Mars with the compassion and creativity of Venus in order to inform the assessment process holistically.
Mars in Scorpio is supportive of going deep, digging in and transforming situations. Act decisively, trust intuitive information and allow the changes to begin.
Venus Transits Aquarius January 8 – February 2
With Mars deeply immersed in his Scorpio work, we watch Venus move from one sign of Saturn to another, shifting from Capricorn to Aquarius on January 8. Aquarius is co-lorded by Saturn and Rahu, making it one of the most exciting of the zodiac signs due to Rahu's ingenious yet unpredictable influence.
Rahu is currently placed in the sign of Gemini through September 2020. This puts his strong desire energy into all of the air signs through this tenure, which magnifies and amplifies the energy in Gemini, Libra and Aquarius. Any planets passing through those signs will receive this jolt from Rahu as well.
Aquarius has a dual nature created by the serious boundary-making of Saturn combined with the innovative out-of-bounds influence of Rahu. This is the sign of the people and of the masses, the foundation for humanitarian action.
With Venus passing through here, perhaps it is time to get your creativity flowing or to try new modes of creative expression while the amplifiers are plugged in and the stage is set. Even Saturn will be giving his aspect to Aquarius for a few final days until he moves on January 23.
Circling back to using Venus to balance the surgical precision of Mars at work in his element, we also see that Mars himself is giving an aspect to Venus while she travels through Aquarius, making that solid aspects onto Venus from three tough cookies. As Venus breezes through Aquarius, healing the sick, feeding the hungry and lifting the spirits of the afflicted while making the place pretty and feel like home, she comes under the heavy gaze of Saturn, the wind machine of Rahu and the laser focus of Mars.
While this could be daunting and feel a bit like too much scrutiny, pressure and manipulation, perhaps the trick is to prepare for this eventuality and resolve that whatever actions or directions that are taken should flow naturally and that naysayers will be kept at arms' length. Valid suggestions (Mars), practical advice (Saturn) and wacky inspiration (Rahu) could be very welcome in certain measure, though, so make sure you are using a filter rather than a shield.
Penumbral Lunar Eclipse – Full Moon in Gemini – January 10
As Mars and Venus get settled in for the month, the Moon waxes, pulling up right beside Rahu on January 10 in Gemini, opposing the Sun, Ketu, Saturn and Jupiter in Sagittarius. This will cause a lunar eclipse, the second in the eclipse pair started on December 25-26, with the solar eclipse visible mostly in the eastern hemisphere.
This penumbral lunar eclipse will be visible to those in Asia, Europe, Africa and Australia. For those in the US, this eclipse occurs between late morning and early afternoon, depending on location, so the Moon will be not visible, as it is opposite the Sun in the full Moon aspect. Nonetheless, it is good to be aware of eclipse energy as it can affect situations both temporarily and long-term, depending upon its placement by transit in personal horoscopes.
Moon will be at 26º Gemini, within the nakshatra Punarvasu which carries the symbology of universal light and righteousness. Rahu, the eclipse causer in this case, will be located in Gemini as well, at about 14º, in the nakshatra Ardra. This is not a particularly close eclipse, but could be sensitive to those with important placements close to 26º Gemini or 26º Sagittarius, which is the placement of the Sun during this full Moon eclipse.
Rahu eclipsing the Moon can cause mental confusion, emotional turmoil or a temporary lack of empathy. This may not be the best juncture to make important decisions, especially that affect the houses in the personal chart that are being pulled into the eclipse axis through Gemini and Sagittarius.
This eclipse intensity will extend into Sagittarius, which has been quite energized by the occupation of many planets through December and January. As January progresses, the scene in Sagittarius will mellow out, with only Jupiter, lord of Sagittarius and Ketu, exalted in Sagittarius, left to finish out the spring and summer months of 2020.
Similar to the recovery operations in Scorpio led up by Mars, Sagittarius will be similarly in a state of reconstruction and invigoration after the herd of planets moves through. The Saturn-Ketu conjunction that created deep furrows through the summer of 2019 will have ended but the terrain will have changed and we all will make adjustments for new avenues of growth going forward in 2020.
The eclipse energy that is bringing in the new year and new decade will be more prolific than normal. Generally we count on two eclipse pairs per year, totaling four eclipse events per year. In 2020, we will have six!
January 10-11: Penumbral Lunar eclipse (full Moon)
June 5-6: Penumbral Lunar eclipse (full Moon)
June 21: Annual Solar eclipse (new Moon)
July 4-5: Penumbral Lunar eclipse (full Moon)
November 29-30: Penumbral Lunar eclipse (full Moon)
December 14: Total Solar Eclipse (new Moon)
Mercury Transits Capricorn January 13 – 30
After swimming through the eclipse axis and getting ahead of the Sun in the zodiac in the meantime, fleet-footed Mercury runs steadily from Sagittarius into Capricorn on January 13 for a quick traverse of Saturn's earth sign. Call him a herald, if you will, of Saturn's pending entrance into Capricorn on January 23.
On his way out of Sagittarius, Mercury rushes past Sun and Saturn, aiming to put himself ahead of the pack. This fast movement is a sure sign that we will be having another retrograde cycle in the near future (February 16 – March 10.) While Mercury is putting space between his position and the Sun's in the zodiac, he will still be in a state of combust, proximity to the bright rays of the Sun, until he moves into Aquarius. Mercury spends most of his existence in this state, from our Earthly perspective. This in itself shows Mercury's versatility and ability to be in the spotlight.
The thing is, Mercury is still going to be in the same room with Sun and Saturn as they break into Capricorn in the remaining days of January. Let's acknowledge the enmity between Sun and Saturn and realize that this conjunction during January may reflect some conflict along the lines of Leaders vs Constituents, Boss vs Workers, Glamour vs Age, Individuality vs Collective, etc.
Mercury is a great translator, communicator, negotiator and ice breaker. We may find ourselves in similar situations as the Sun transits Capricorn with Mercury and Saturn, who have much more advantage in the cold, steep and rocky hills of Capricorn. So, get your Mercury ready. This may take a bit of energy. Make sure to be practical with your scheduling, pencil in self-care events and put plenty of nourishing foods on the menu.
This is a good period for establishing new schedules, as we have been collectively leaving behind defunct programs. Mercury is enthusiastic, quick and skilled, leading our charge, keeping us organized and attending to details. The friction indicated by the Sun-Saturn interaction is another obstacle that Mercury can learn his way through. The show must go on.
Sun Transits Capricorn January 14 – February 13
The Sun moves into Capricorn on January 14 for his annual wintery trudge through Saturn's earth sign. Predictably, he exits about a month later, moving into Aquarius on February 13.
This annual transit of Sun through Saturn's earth sign brings forth the inherent relationship between the Sun and Saturn, which is that of enmity. The rift is a fundamental difference in the role of the individual ego. The Sun thinks the ego is rather important and self-defining. Saturn thinks we shouldn't be too attached to self-identification given the fleeting nature of life and inevitable destruction of physical form.
We should know by now that enemies or opponents can be the best teachers. With Sun in Capricorn, we are afforded the opportunity to let our "selves" relax and step aside in favor of taking care of business, which often involves a sacrifice of personal leisure or enjoyment.
The opportunity to strike a healthy ego balance continues strongly through the Sun's transit through Saturn's sign. The opportunity becomes even more evident when Saturn follows the Sun into Capricorn on January 23. This proximity to the Sun is considered combustion, which due to the Sun's intense light can diminish the strength or effects of another planet, in this case, Saturn. Saturn gets into combustion with the Sun durning the end of December and will slip away from the Sun and out of combustion by end of January.
We may find ourselves wrestling with themes of self-assertion vs surrender, individual desires vs collective demands or leisure vs sacrifice.
Saturn in Capricorn January 23, 2020 – January 17, 2023
The transit of Saturn through each sign takes approximately 2.5 – 3 years and can make a significant impact on how life unfolds for each person depending on the situation of Saturn in the horoscope. The domain of life indicated by the horoscope can become burdened, sluggish and contracted by Saturn's passage through that sign.
It is easy to shrink away from Saturn's effects and lessons, as they often come with pressure, disappointment, fear or negativity. The faster one runs away from Saturn, the harder the lessons become. Surrendering to the difficulty is the ultimate answer; Saturn wants us to put our shoulder into the load and find the strength and detachment to bear the burdens that come with our earthly journey.
As with each planet, there are certain sectors of space that favor Saturn's agenda more than others. His most recent position has been in Jupiter's expansive sign of Sagittarius since late 2017. This has caused a slowing of growth due to Saturn's constrictive, conservative influence. The summer months of 2019 were particularly obstructed, brittle and crippled due to a tight Saturn-Ketu conjunction.
On January 23, 2020, Saturn will move out of Sagittarius and into Capricorn, a sector of the zodiac that is considered to be Saturn's own. Any planet in his own sign has the benefit of this "lordship," which frees the planet to do its best. Saturn in Capricorn for the next few years will allow us to slowly and deliberately build a new foundation, possibly upon the ruins that have been wrought in the past six months. The viable materials will be used to form a base while the rubble and refuse is used for fill or discarded.
The buoyancy that Jupiter provides will re-emerge in Sagittarius when Saturn exits. This should allow for projects or situations that have become stagnant or blocked to regain traction and move forward. Growth potential should become more evident and accessible.
The December 2019 forecast has some Saturn in Capricorn information to review.
Depending upon the role of Capricorn in personal horoscopes, we can expect Saturn's influence to come through as pressure, challenge or limitation. For example, if one has Cancer ascendant, Saturn will be transiting the 7th house. The 7th house shows one's orientation to others or to relationships, not so much those other people themselves.
Saturn coming into a three year transit through this house may affect the relationship/partnership realm for Cancer ascendant. Saturn tends to be separative, which doesn't mean that if one is in relationship that it will end; it could just signal a desire for increased time alone or in seclusion, or other pressure which causes temporary separations, which could be coupled with a lack of desire to nurture relationships. On a positive note, one may become disappointed by interactions with others that really drive them to create better personal boundaries.
One interesting feature of Saturn's Capricorn transit will be when Jupiter joins Saturn. While Saturn in Sagittarius seemed to suppress and slow growth, Jupiter in Capricorn will likely bring positivity and fruitfulness to the foundations that will begin to be laid after Saturn enters there this month.
Jupiter will be in Capricorn from March 29 – June 29, 2020 for a brief dip into the early degrees of Capricorn and then a retrograde retreat back to Sagittarius. Jupiter re-joins Saturn at his austere retreat center again on November 19, 2020, traversing through the remainder of Capricorn and exiting to Aquarius on April 5, 2021.
Jupiter is considered to be debilitated while in Capricorn, which means that Jupiter finds it difficult to be expansive, faithful and positive in an environment controlled by a planet that prefers limitation, responsibility and practicality. This debilitation is somewhat lessened during this current transit by Saturn's own presence, which improves conditions somewhat in Capricorn, making a stable yet challenging environment for Jupiter to do his job.
Jupiter last joined Saturn (and Ketu!) in Capricorn from October 1961 – February 1962. American involvement in the Vietnam conflict began during this time, among other important historical events. The February 4, 1962 solar eclipse chart is especially notable, with all seven visible planets in Capricorn with Ketu, opposed by Rahu in Cancer.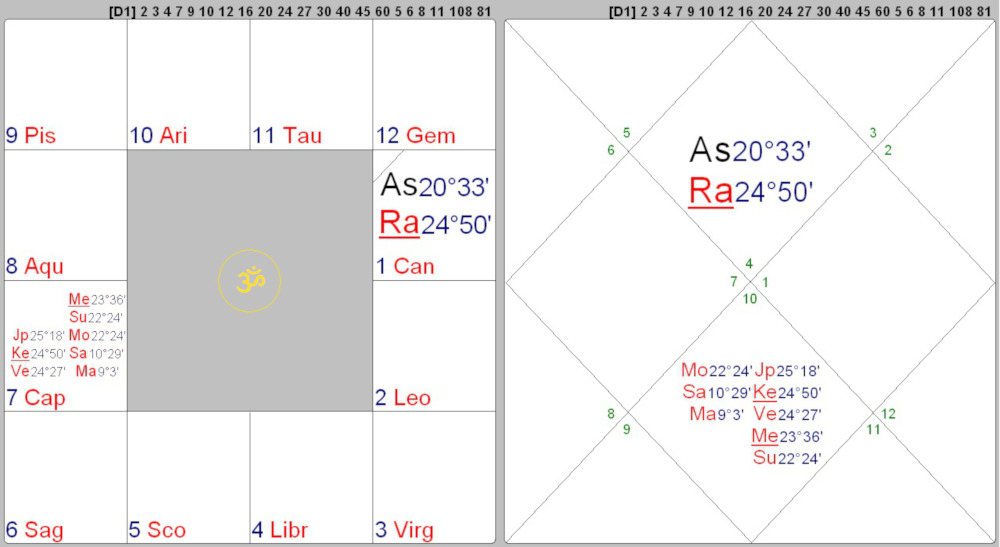 New Moon in Capricorn/Shravana January 24
The Moon sweeps into Capricorn on Saturn's heels, advancing to join the Sun at 11º Capricorn on Friday, January 24. As the Moon wanes from January 10-24, we are wise to pay attention to our own mental and physical energy levels. In the day leading up to the new Moon, as Saturn is changing signs on January 23, it would be a good time to sit quietly at least for some time to acknowledge the weariness and lack of energy.
As we pause in this moment, we may feel that we are at the bottom of a large hill that we want to climb but we find ourselves alone, without proper shoes and drained of resources or energy. Allow yourself for a moment to collapse, get quiet and listen.
This Sun/Moon combination occurs in Saturn's Capricorn, but within the nakshatra (lunar mansion) called Shravana, which is ruled by the Moon. This slice of the zodiac supports absorbing wisdom through the faculty of hearing. So stop and listen, both to the voices that surround you physically and to the voice of your own heart and soul.
Saturn accompanies Sun, Moon and Mercury in this new Moon event. Finally moved to his own sign after the transits through Scorpio and Sagittarius, difficult signs for Saturn, we are collectively faced with a new set of planetary benefits and challenges due to Saturn's new backdrop. Which is also the backdrop of this new Moon moment, which implies a still point with the anticipation of upcoming action.
Overall, we expect positive results from a planet placed in own sign, with the caveat of course that expecting positive results from Saturn goes somewhat against everything Saturn hopes that we realize. Saturn urges detachment, stability, fortitude, practicality and doesn't transact much in hopes and dreams. Saturn tells us that expectation causes suffering. Saturn in Capricorn gives us a few years to build day by day, stone by stone, slowly. In the silence of this new Moon moment, listen to the whispers of this upcoming project that you choose to face.
With this, a little Zen:
What is this mind?
Who is hearing these sounds?
Do not mistake any state for
Self-realization, but continue
To ask yourself even more intensely,
What is it that hears?
– Bassui
Mercury Enters Aquarius January 30
Mercury hits the ground running on January 1, quickly moving through the group of planets in Sagittarius and jets ahead into Capricorn on January 13. He races through Saturn's Capricorn, putting himself ahead of the Sun. By January 30, Mercury not only moves into Aquarius, joining Venus, but also moves out of combustion with the Sun.
Aquarius, co-ruled by Saturn and Rahu, can be thought of as the territory of the zodiac that represents the desire of humanity to cooperate and offer equal opportunity for a happy, fulfilled life to all people and beings. In Aquarius, there is an inescapable sense that even though we seem separate, we are all responsible for the collective success, safety and prosperity for all of Earth's life forms.
For the first half of February, Mercury and Venus will have the opportunity to reach and teach with messages and information that can assist the masses who strive for fairness, justice and basic respect. By February 2, Venus moves into exaltation in Pisces, leaving Mercury the space to really express himself and get the word out to the world. Reminder that Mercury begins a retrograde cycle on February 16, which brings him back into combustion with the Sun after only a few days. Mercury resumes direct motion in Aquarius on March 10.
After a 3-5 years of a variety of challenging planetary transits that affected the world's population in one way or another, the year ahead looks relatively promising. We may be dealing with the fallout of grief, loss or nearly insurmountable obstacles, but the stability offered by Saturn in its own sign working hand-in-hand with expansive Jupiter in his own sign gives this astrologer some hope for the upcoming year. The period between mid-September and mid-November looks particularly interesting with Saturn, Jupiter and Ketu all forming a chain of planets placed in their own signs. Happy New Year 2020!